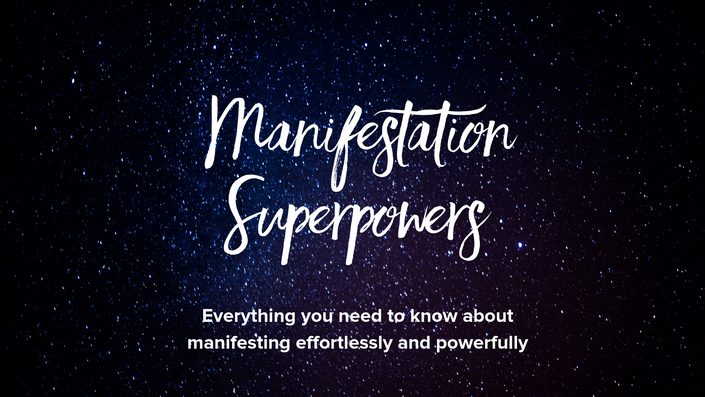 Manifestation for High-Performers

MAKE 10K MONTHS YOUR #NEWNORMAL
& SET THE FOUNDATIONS FOR YOUR NEXT INCOME LEVEL
Manifestation Superpowers is a 8-week self study course that was created for the high-achieving entrepreneur, like you. So you can uplevel your mindset, expand your intuition, and discover how to create what you desire with ease.
Manifestation Superpowers is the Only Course You Need
to Make 10k Months Your #newnormal
and Set the Foundations for Your Next Income Level
You have the tenacity, drive and motivation to create your dream world...

I have the support, tools and community to make that happen faster and easier than you ever imagined.
---
Who Will Get the Most Out of This Course?

If running your business feels like a constant struggle... If you feel like your overworking, under-earning and don't know how to get out of that cycle...

But you keep grinding because deep down you know you're meant to lead a thriving movement and touch the lives of thousands - the Manifestation Superpowers Course is for you
If you think you've tapped out your existing client base already... Or that you need to create and fill a new offer every single month to make it... or that your content is the issue... or you have a growing fans and audience yet not enough paying clients... Maybe you think your sales skills is the problem...

---
Know that these are only symptoms of the issue.
The real problem is not understanding how to apply the law of attraction in your daily life

.
Built for You.
Manifestation Superpowers was built for the woo-curious entrepreneur who has the drive to accomplish her dreams and is craving an easier, more flowy way.
---
Soloprenures who are wearing 21 hats at any given moment and crave more ease in their business

Creative Entrepreneurs who understand how important their spiritual practice is but have issues integrating it into their daily routine

Coaches who know they've found their calling and want to grow their business without the constant hustle and grind

Passionprenures or anyone with a side hustle they're ready to step up a notch

Online Newbies who've hustled their face off and are ready to get serious

Marketing Pro's who want to develop their intuition to complement their strategy

Niches Service Providers who have a small but devoted market and know that with some help they can become number 1 in their industry

Nine to Fiver's who are ready to make the leap into their business and want to replace their income
Manifestation Superpowers Covers...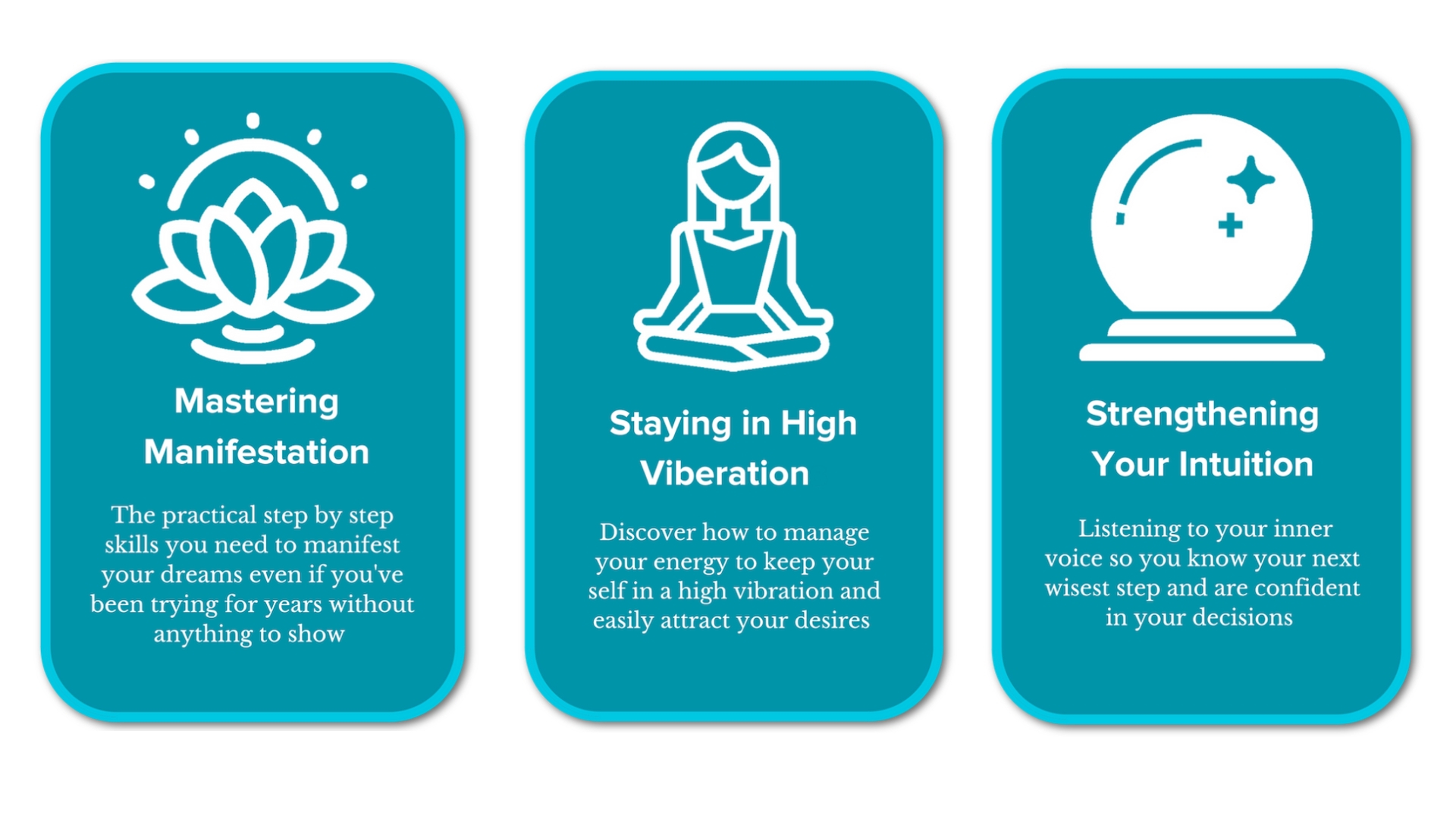 Manifestation for Practical Entrepreneur
Manifestation Superpowers is a 8-week self study course that you do at your own pace so it works easily around ANY schedule.
We take a 3-pronged approach to manifestation making sure you get everything you need. Each module includes a practical lesson with a hands on approach... A meditation to help you master your energy... and a spiritual practice to help increase your connection to source module by module.
---
I know how easy it is to get swept up in life. I also know how easy life gets when you understand these concepts. I refuse to let life get in the way of your success.
---
Get the course now at the discounted price and get instant access. You'll have the peace of mind knowing you can start to master manifestation as soon as your ready!
WHAT YOU WILL GET WITH THE COURSE...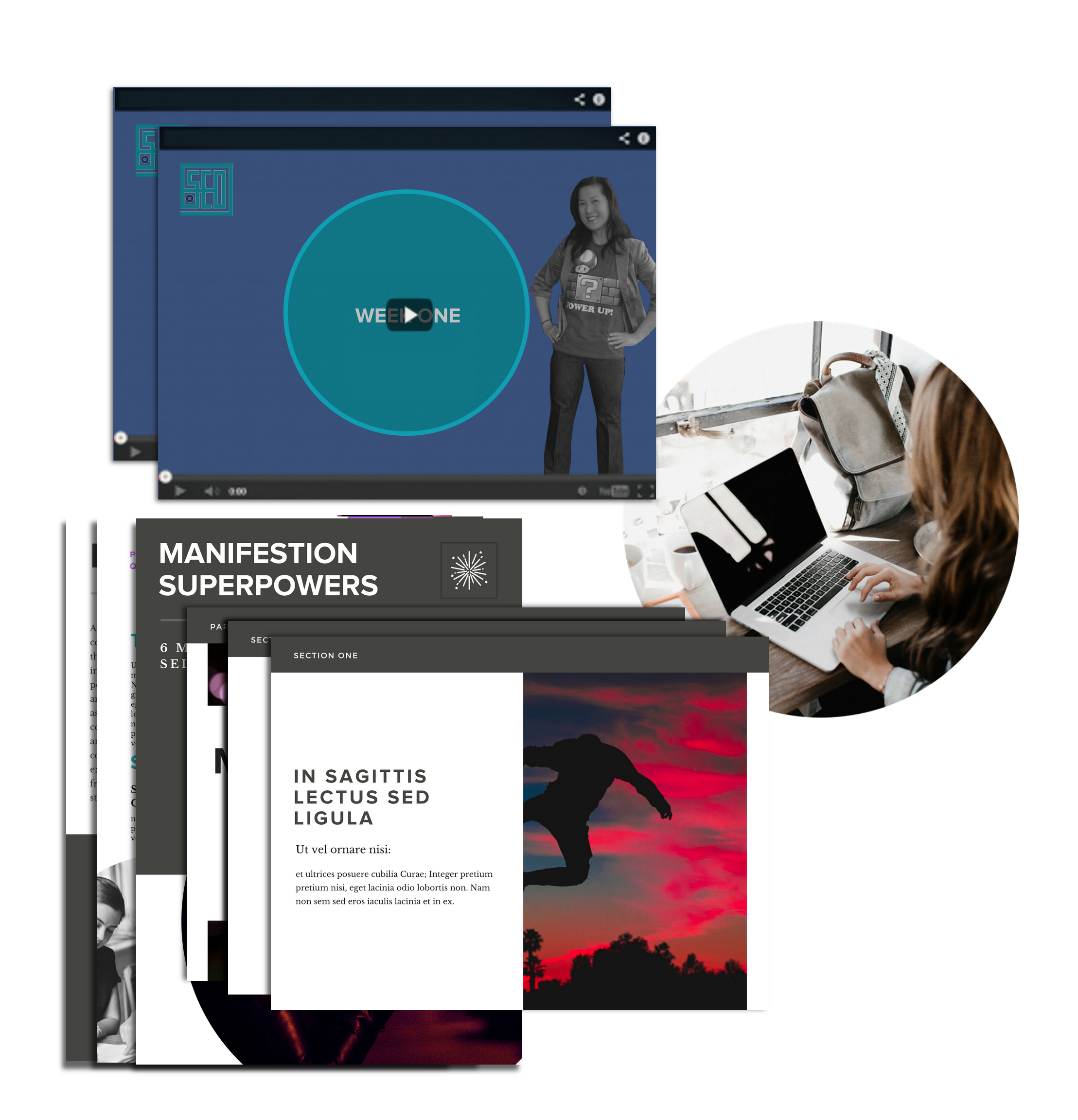 MODULE ONE

Getting Started: What Do You Want?
In this module, we'll dive deep into the basics of manifestation to help you set a strong foundation for the coming weeks... You'll discover why manifestation hasn't worked for you in the past and the different styles and techniques often used. You'll also get super clear on what it is your creating and why you're creating it so you can manifest with purpose.
---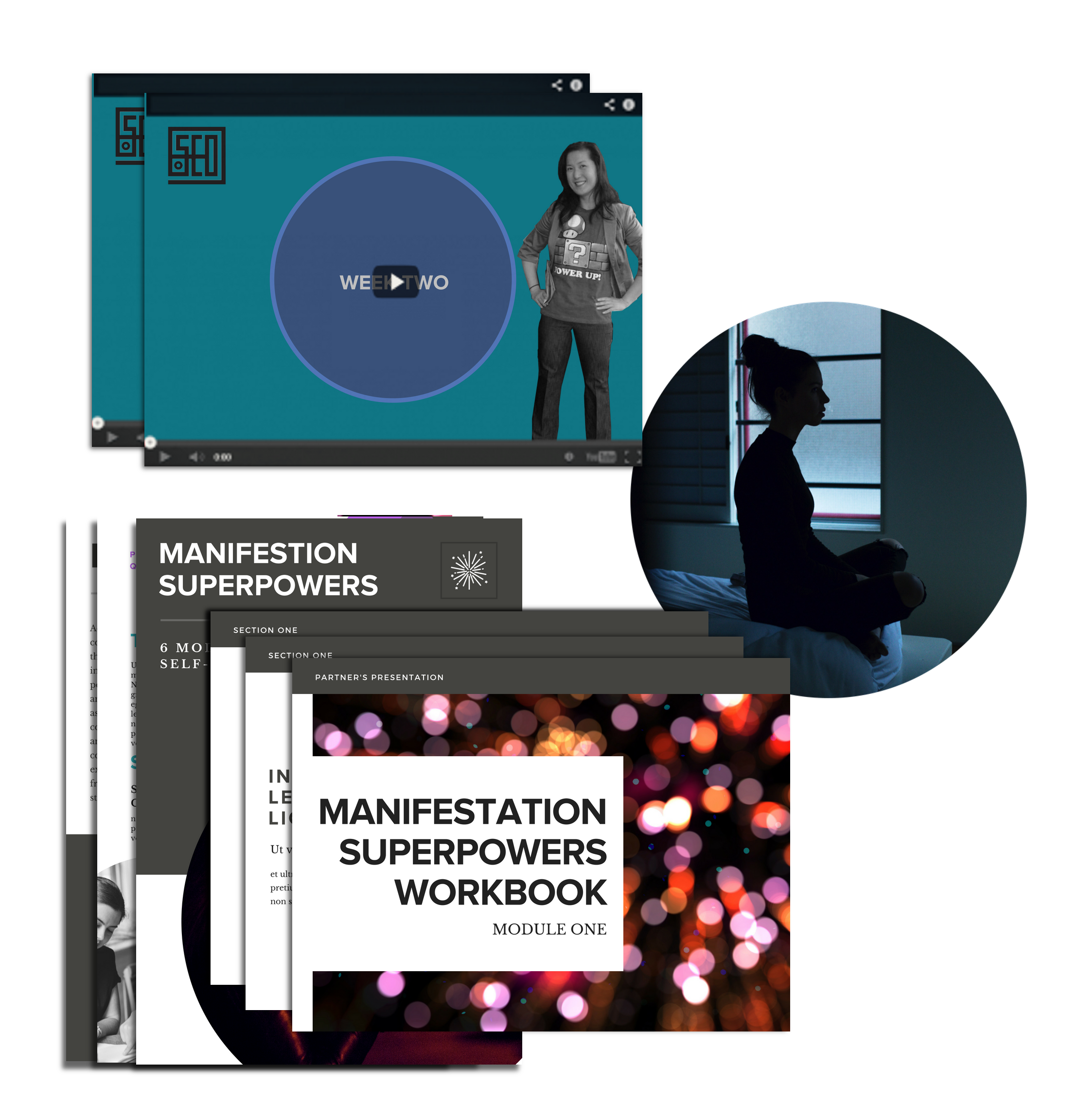 MODULE TWO
Energy & Vibration: What it is and Why it Matters
In this module, we go deep into what energy is and why knowing how to master it is the secret sauce to being able to manifest anything. This is where you'll learn how to align your vibration and become an energetic match for what you want... Plus how to tell when your vibration isn't in alignment so you can make adjustments faster.
---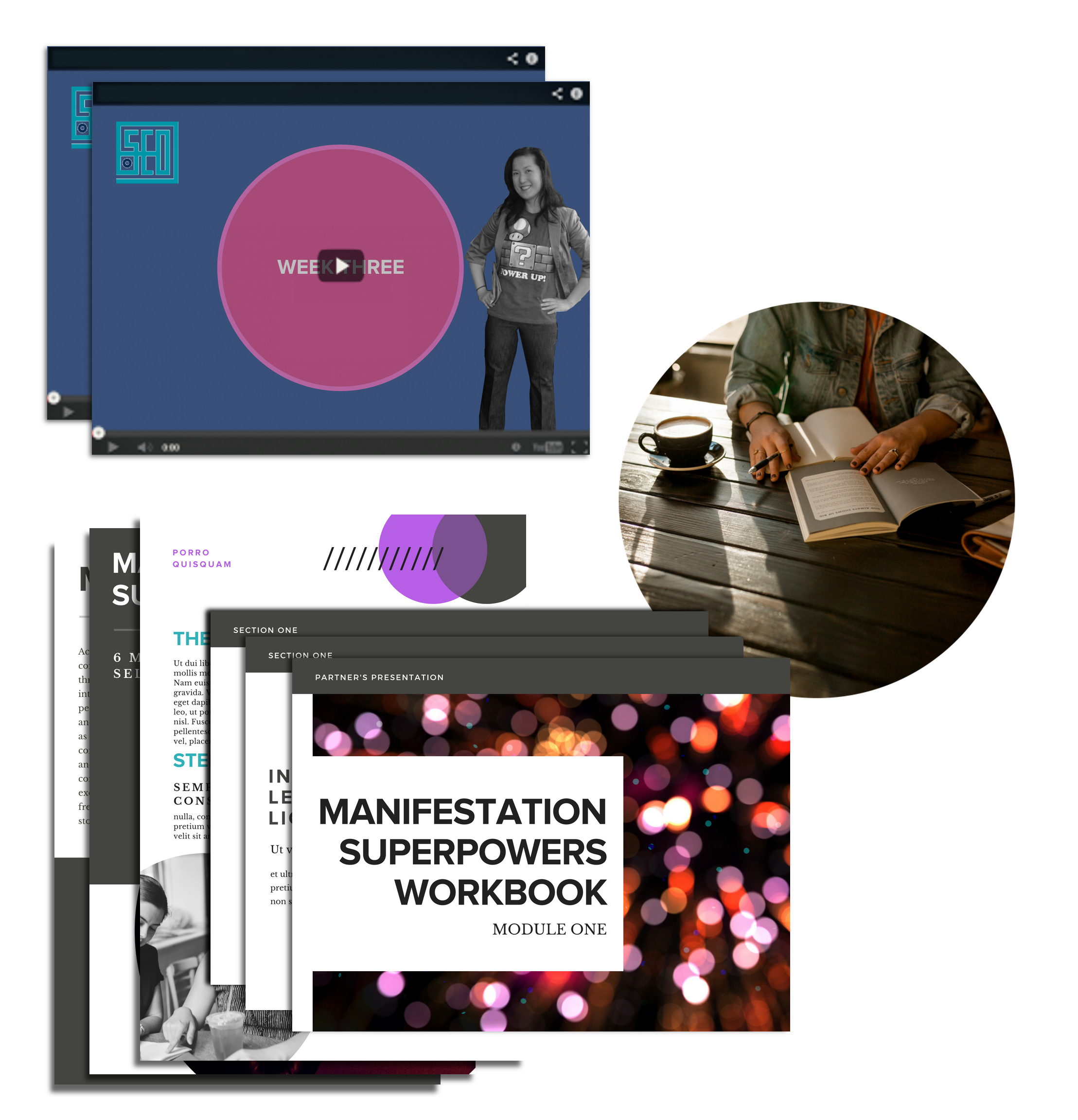 MODULE THREE
Asking: Placing Your Order with the Universe
This is where the fun begins! In module three we cover the proper way to ask for something fro the universe. how to make your requests easy to deliver. You get step by step directions to making your asks clear so you can manifest with ease.
If you've been trying to manifest something for ages without results this module is a MUST for you. There's a fine line between asks that are too general and asks that are too specific. If you don't understand how to make your ask I can guarantee your making it hard for the universe to deliver.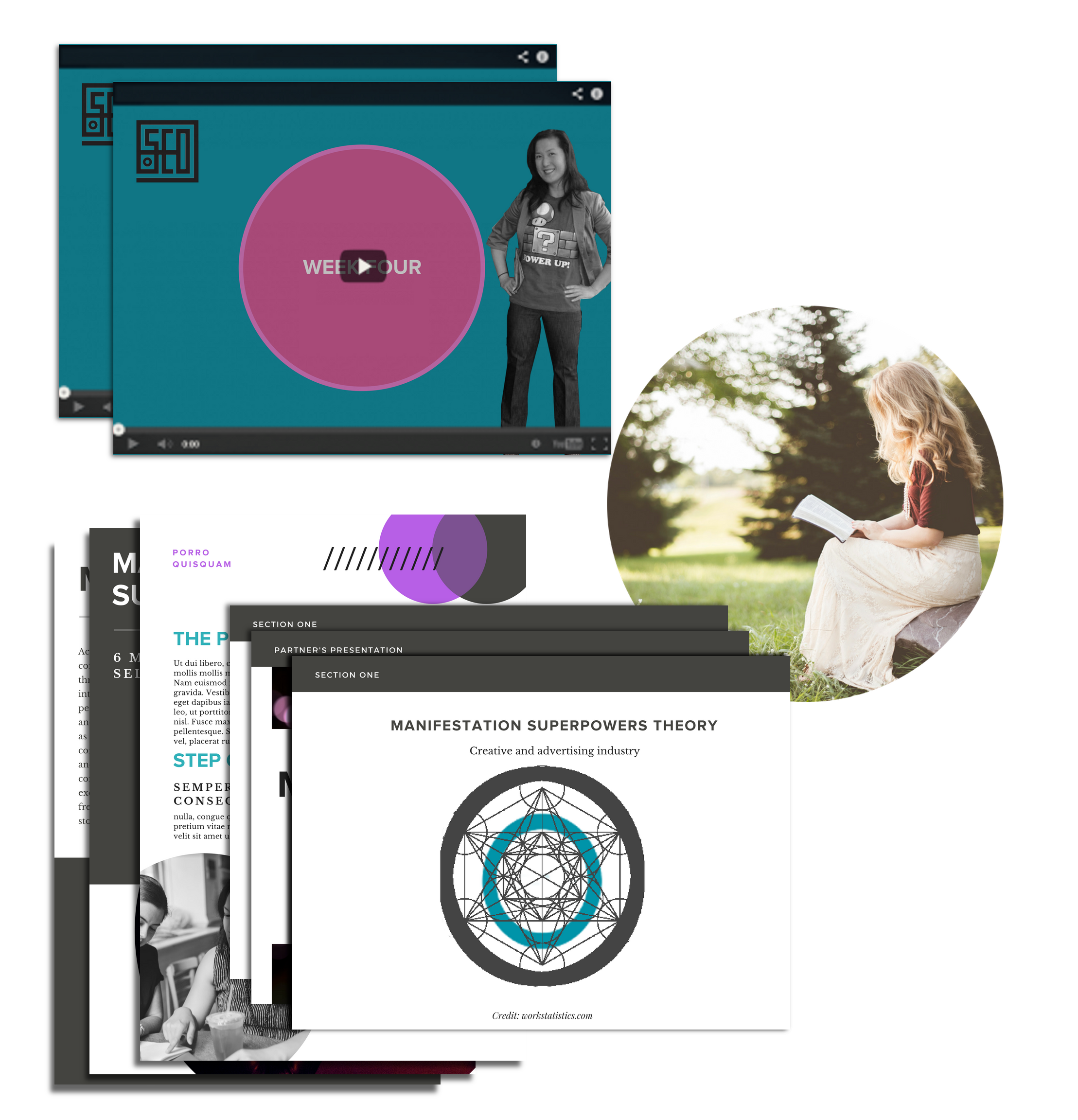 MODULE FOUR
Aligned Action: Taking the Right Action at the Right Time
In this module, we'll cover the things you need to do after you've made your ask. This module is all about aligned action. You'll find what aligned action looks like for you... How to tell the difference between action that's aligned and action that's not... What it means to hit your goals without the hustle... And how to easily adjust to this new method of operation. This module is all about ease and getting into flow.
---
MODULE FIVE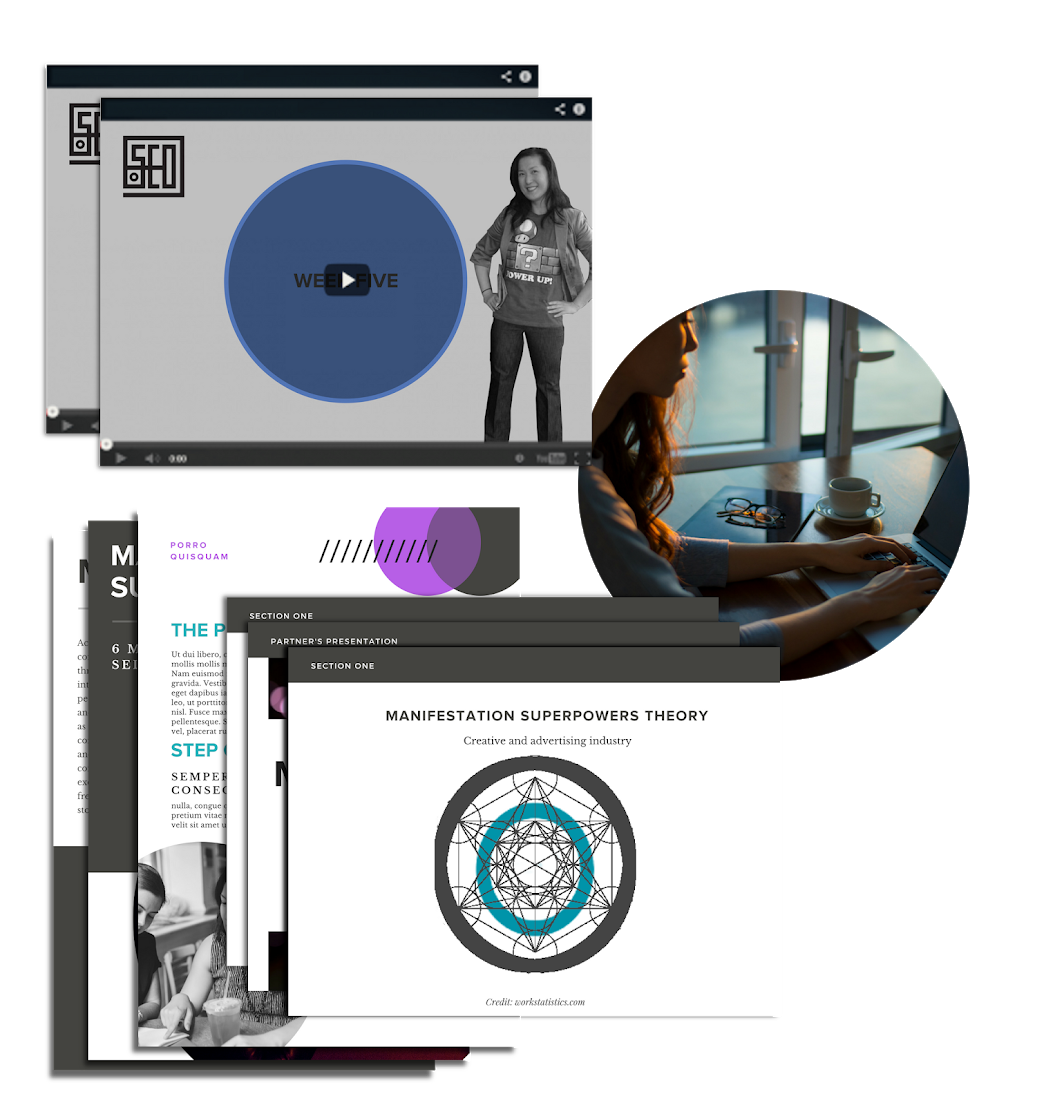 Intuition: Using Your Inner GPS so You Never Fail
Module five is all about intuition... This is where things start to get REALLY fun. You have an inner GPS to help you navigate this manifesting journey so lets tap into it! You'll never second guess yourself again after this lesson. You'll discover what your intuition is... How it helps you to manifest... How to connect to your intuition... How to strengthen your connection to it.
Plus you get a spiritual practice to ensure your connection to source gets stronger with each day...
---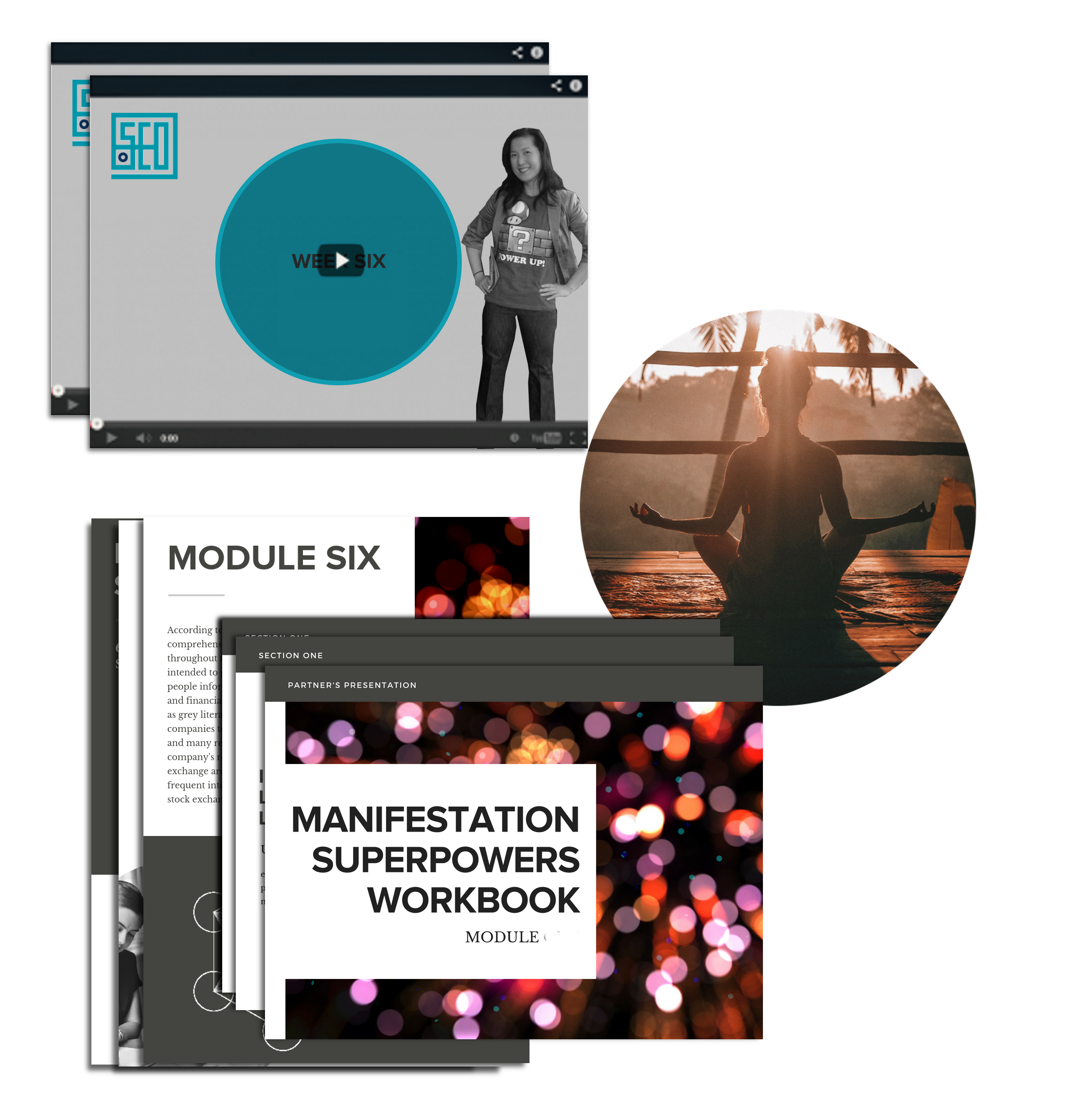 MODULE SIX
Receiving: Getting What You Want Made Easy
How open to receiving are you? If you've been trying to manifest for a while now without results, chances are your not as open as you think. You MUST be open to receiving to allow in what you've asked for... And this module is where you'll discover how to increase your capacity to receive.
You can master every other aspect of this course and still not manifest if you're not open to receive. This is the crux of it all. Find out more inside the Manifestation Superpowers Course!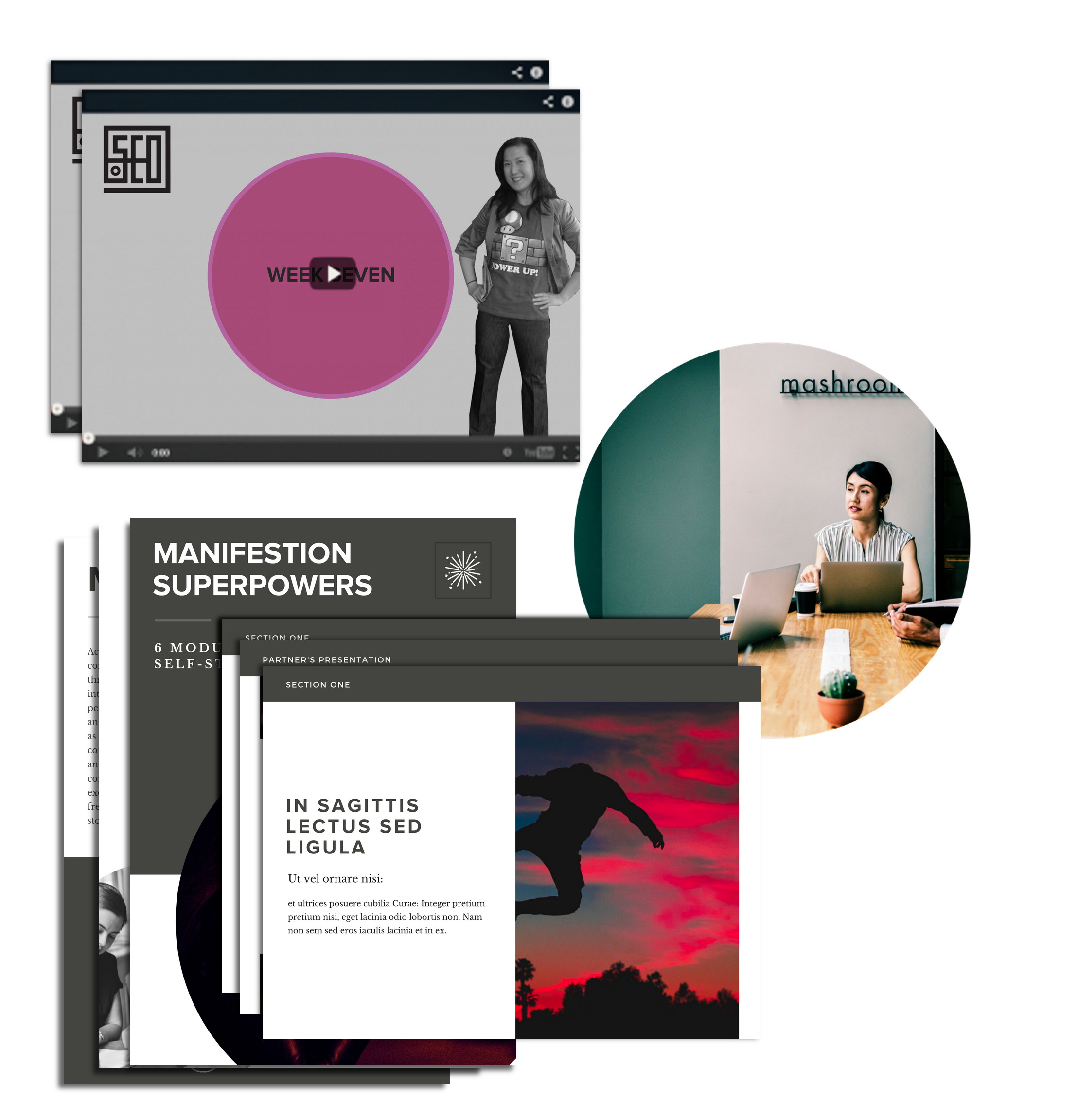 MODULE SEVEN
Resistance: Working Through Blocks that Come Up
Module seven is where dive deep and find out what's stopping you from manifesting what you've asked for. This is where we bring out the big guns and heal any blocks getting in the way of ou being able to powerfully manifest.
In this module you get a step by step game plan you can use each time you hit a wall...
Packed with the simple steps you need to overcome any resistance you have what you want...
---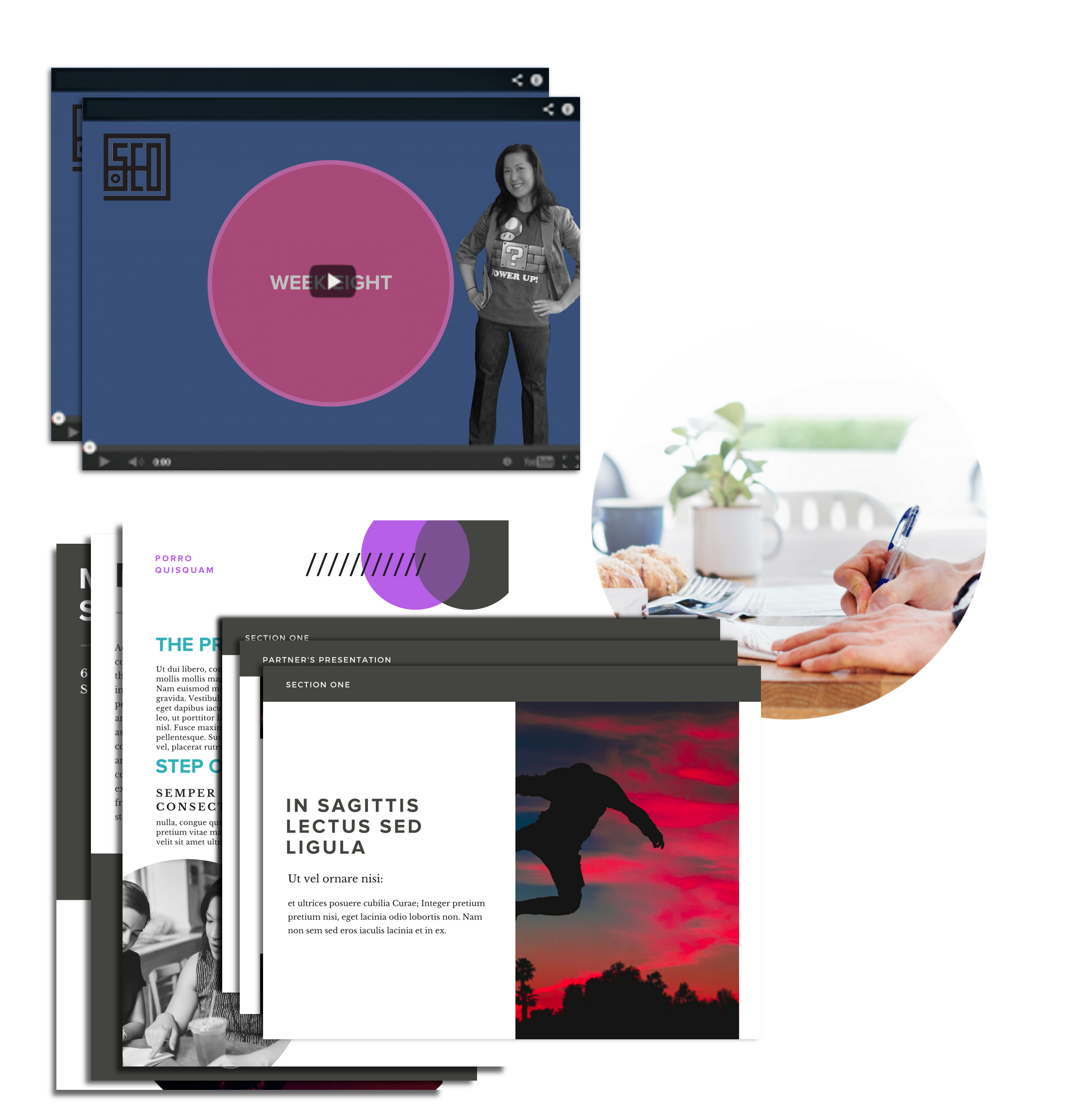 MODULE EIGHT
Practices to Ensure Manifestation Becomes Second Nature
In this module you get my daily 5-minute practice to help you ingrain your new found superpowers into your life. This module will help take what you've learned in the last 8 weeks and make it routine. No more bouts of self doubt, wondering "will it work this time"... With this module manifestation will become so second nature to you, your friends and family will start to wonder how you got so lucky all of a sudden.
But you'll know it's not luck. It's your Manifestation Superpowers.
Your Bonuses for Signing up TODAY:

21-Day Mindset Makeover Program
You can know all the secrets of manifesting but if your mindset is not on board, you would be creating roadblocks and sabotages. Creating daily habits to strengthen your mindset and energy to support your manifesting is the key.
This 21-Day Mindset Makeover program is packed with quick and powerful exercises you can incorporate daily to create consistent result and the feeling of flow.

You can use this flexible program to support you while you are taking the Manifestation Superpowers course, or use this program afterward to reinforce and enhance the work you have done.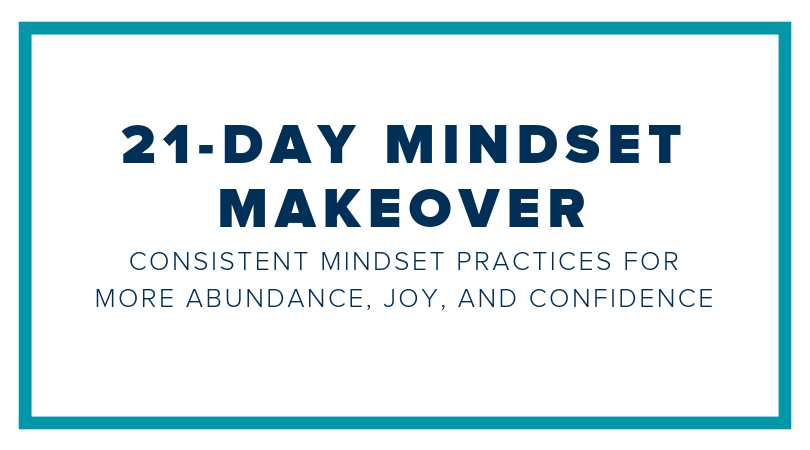 Your Instructor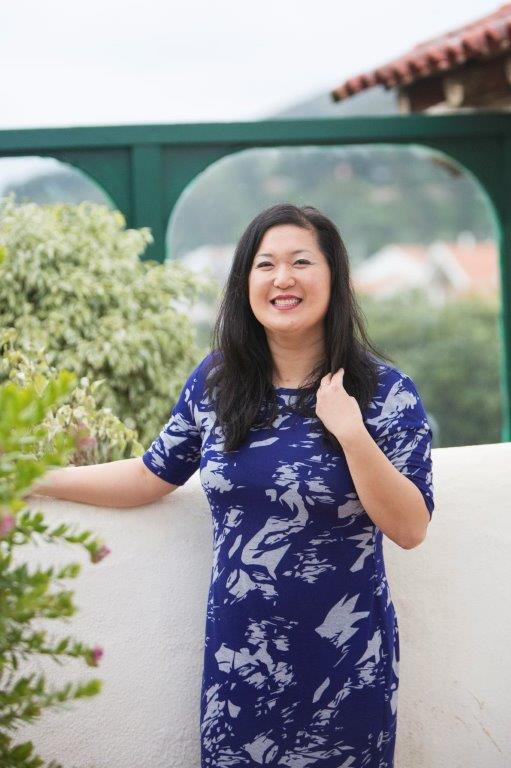 Hi! I'm Seo, an intuitive life and biz coach who empowers women to move outside their comfort zones, manifest transformation and play big. As a coach, I go beyond strategy and embrace the WOO to help women change their lives so they can change the world on their own terms...and in their own way.

I blend strategy and spiritual mindset to help you:

Gain Clarity... so you can build your life around your purpose.
Remove Blocks... and the feeling of "stuck" so you can freely and openly move forward.
Align Your Vibrations to Your Strategy... so you can feel amazing and joyfully in flow with your purpose.
Identify And Plan Your Actions... so you can confidently move forward toward success.
Perform Consistently... with intention and success!
Feel Supported... to take courageous actions and live the life of your dreams.
All of my gifts and abilities support you through your transformation.

Sometimes, it's psychic.
Sometimes, it's all business.
Sometimes, it's a combination of healing and business acumen.
You will be transformed through your mindset, energy, and action. I serve you so you can manifest your highest potential.
Frequently Asked Questions
Why do I need to Join Manifestation Superpowers NOW?
You Won't See This Offer Again! The program is available for a limited time at the current price, then registration will be closed. No jokes. Get in on this now while you can.
How long do I have access to the course?
It's a Self-Study and The Material is Timeless, Which Means... You get INSTANT access to Manifestation Supwerpowers so you can do the course whenever your schedule allows. The material will NEVER go bad or become irrelevant. Grab the course now at the discounted price and instant access right now. You'll have the peace of mind knowing you can start as soon as your ready WITHOUT needing to put your dreams on hold for a full year.
What bonuses are included?
You will receive my 21-day Mindset Makeover program, designed to provide you with 21 different mindset practices you can choose from to help your manifestation journey. You will also get one year free membership at my paid membership site, Alpha Sisters Inner Circle. The Manifestation Superpowers program, along with the 21-Day Mindset Program and one-year free access to Alpha Sisters Inner Circle Membership is valued at over $2000.